Ernst Albert Tietjen
Family History Resource Page


Last update: 2 May 2004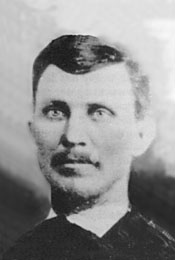 Ernst Albert Tietjen was born on 14 September 1849 to German parents in Saken, Sweden. As a boy he was with his father when he rescued two Mormon missionaries from a mob. The Tietjens joined the Church and emigrated to Utah in 1859–60, spending their fortune to bring other members of the Church with them. Ernst made several out-and-back trips as a teenager to help other Saints cross the plains. In 1877 he was called to be a missionary to the Navajos, and he spent the rest of his life in New Mexico. He pioneered Savoya, then Ramah, then Bluewater. Ernst had three wives, Emma O. Erickson, Emma C. Pedersen, and Amanda Hatch, and has numerous descendants throughout the United States. He died 22 February 1925.
(New) Tietjen Book to Be Reprinted
Cousin Gary Tietjen has authorized a small reprint of his book Ernst Albert Tietjen: Missionary and Colonizer. Ben Parkinson, webmaster of Parkinsonfamily.org, has been working to retypeset the book and make it available. As part of this work, he has gathered many additional histories and photos (with much help from Gary and Collins Chapman) that he plans to post on this website in the coming months. High-resolution photos are also available.
Note that he will reprint the book when he has enough people who want copies to cover the expense. Please contact Ben Parkinson, for information.
Special
Cousin LaRee Nooner has done extensive genealogy on the family of Emma C. Christensen and is looking for family members to help with the temple work. Note that Emma C. and Emma O. Erickson were cousins, so these are ancestors and relatives of Emma O.'s branch of the family as well. If you would like to help, contact Ben Parkinson, and he will forward your request to LaRee.
Resources
External Links
Change Log
Major update—added genealogy and numerous photos and histories (2 May 2004)
Added mail form for responses, general maintenance (8 Feb 2004)
Added note on reprinting Gary Tietjen's book (22 Oct 2003)
Added biography and note on LaRee's temple names to front page (5 Nov 2002)
Added history of August Tietjen (5 Oct 2002)
Added counter (10 Jul 2002)
Public launch (2 Jul 2002)
Page launched (2 Jun 2002)
Contact