Jefferson Hunt
Family History Resource Page

Last update: 06 July 2010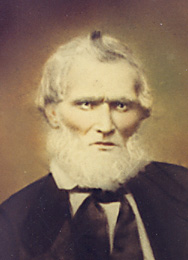 Jefferson Hunt was born 22 Jan 1804 in Bracken County, Kentucky. In 1833 he and his family joined The Church of Jesus Christ of Latter-day Saints. He was expelled from Missouri with the Saints in 1835, and in 1846-47 served as captain of company A in the Mormon Battalion. In 1849 he guided a company of emigrants from Utah to California. Twenty wagons left the company and wound up discovering Death Valley. He lived in San Bernardino, California; Huntsville, Utah (named for him); and on his ranch near Oxford, Idaho. A true frontiersman and a stalwart Saint, he died 11 May 1879 at age 75.
A Note on the Photo
The above picture is from a cabinet-card sized hand-colored original print in possession of cousin Hattie Elkins. We understand a version of this same shot was recently donated to the Jefferson Hunt Elementary School in San Bernardino, California. That one is from a different doner and a much larger original.
Jefferson Hunt Book Reprinted
The family of Pauline Udall Smith, author of the book Jefferson Hunt of the Mormon Battalion, has reprinted the book in a limited quantity. More information is available here. You can see an early mockup of the first few pages here.
Resources
External Links
Change Log
Corrected date for joining the LDS Church from 1823 to 1833 (06 Jul 2010)
Book Reprint Announced (01 June 2007)
Corrected David L. Walton's name (20 Oct 2006)
Added mail form (8 Feb 2004)
Changed wording on capsule bio (18 Oct 2003)
Added link to David L. Watson's page (1 Jun 2003)
Added first histories, on Joseph Hunt (10 May 2003)
Added biographical note, new photo (9 Nov 2002)
Page launched (2 Jun 2002)
Contact