Joseph Engebret and
Maud S Hunt Tietjen
Family History Resource Page

Last update: 9 May 2004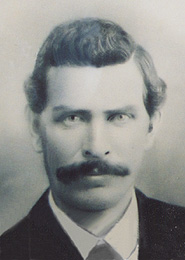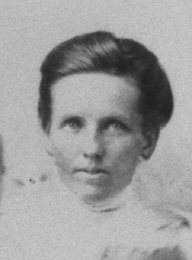 Joseph Engebert Tietjen was born August 22, 1875, in Santaquin, Utah. His father, Ernst, was a founder of Ramah, New Mexico, where he was sent in 1878 as a Mormon missionary to the Navajos. Here Joe was raised among mostly Navajo neighbors. Joe spoke the language well enough that if someone heard him from another room, they wouldn't guess he wasn't Navajo himself. Joe bought the wild remnants of an old cattle herd and spent years gathering them and building a large operation. He ran his cattle from Chaco Canyon to Quemado. In 1898 he married Maud Hunt, a feisty widow's daughter of a widow who followed the herds. Maud was born October 10, 1888, in Payson. Her father Thomas Jefferson was killed by Apaches while hunting for gold near Tucson before Maud was five years old. Joe was 6 foot 7 and Maud less than 5 feet. They lived near Haystack west of Grants, New Mexico. Joe was a tough rancher but always tried to do good, to be kind to his Indian and Spanish neighbors, to help widows and those in need, and to teach the gospel in word and deed. He died young, on September 20, 1918, in Albuquerque. Maud raised their six children and ran the ranch by herself or with relatives for years after. She acted as nurse in the community and was always the first on the scene when someone was in need. She died April 24, 1966, in Albuquerque.
Resources
Links
Change Log
Added LDS Biographical Encyclopedia photo (9 May 2004)
Added Gary's bio of Joe, plus capsule biography and Bluewater 1923 photo (also major updates to his parents' pages) (2 May 2004)
Added mail form (8 Feb 2004)
Added counter (10 Jul 2002)
Added picture of Joe from LDS Archives (10 Jun 2002)
Page launched (2 Jun 2002)
Contact